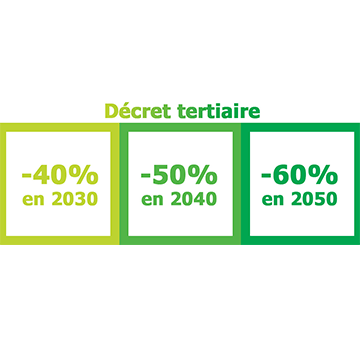 Since 2019, C-LOG has taken many actions for the ecological transition and proudly announces its first positives results thanks to its investments!
Optimization of energy consumption: The first encouraging results for 2021!
These are the optimizations and adjustments of many installations (boilers, heat pumps, radiators, water heaters, etc.), and awareness campaigns to employees, which enabled these results for the expert in Supply Chain Mode.
C-LOG has anticipated the "Décret Tertiaire" of 2019, with various actions on 6 of its warehouses, to regulate and optimize its energy consumption. C-LOG affirms its position and its vision on the environment, with an annual decrease in energy consumption of 2,265MWH, with -19% on electricity & -33% on gas *. This is the equivalent of an annual consumption of around 500 homes in France**.
Saint-Malo warehouse has already almost reached the 1st objective of 2030 of the "Décret Tertiaire" by reducing its consumption by 36% in just 3 years.
For 2021, C-LOG is continuing to develop its actions at all of its sites.
*actual billed –**www.fournisseurs-electricite.com